Beefree Introduces a New Page Builder
How do you grow a company from in-house side project to a world leader with triple-digit growth rates? Massimo Arrigoni has a thing or two to say on this topic. Since his early days as Head of Product at MailUp, he has been nurturing an originally small product and growing it into what it is today – Beefree, the easiest, quickest way to design elegant, mobile responsive emails, a family of products used by over 1,000,000 people.
With Beefree becoming a business unit of its own, Massimo transitioned to being its General Manager, leading a growing team dispersed across the Silicon Valley, other parts of the United States, and Italy. 
Today he shares his views on a major turn in Beefree's evolution – the addition of a Page Builder to design beautiful web pages to the Beefree SDK family. 

So, Massimo, what's new and exciting about the Page Builder?
We're very excited because we are responding to a clear and strong customer need. Since the day we presented our embeddable, drag-n-drop email editor in the fall of 2015, SaaS companies have been asking us to create a version of it for Web pages. Their customers often need to create both emails and landing pages, and want one tool to do both. With Page Builder, now they can.
How does the new Page Builder fit in the Beefree product ecosystem?
It's available immediately as a new version of our embeddable product, Beefree SDK, and it's completely free for 3 months as part of our effort to help companies cope with Coronavirus. For a company that has embedded our Email Builder, adding Page Builder is quick and easy: much of the technical details is the same, so a development team can move fast to bring new landing page creation features to their users.

Page Builder is not yet available as an extension of Beefree, our hosted email creation suite, which for now remains 100% focused on email. We'll look at adding page building features there later this year.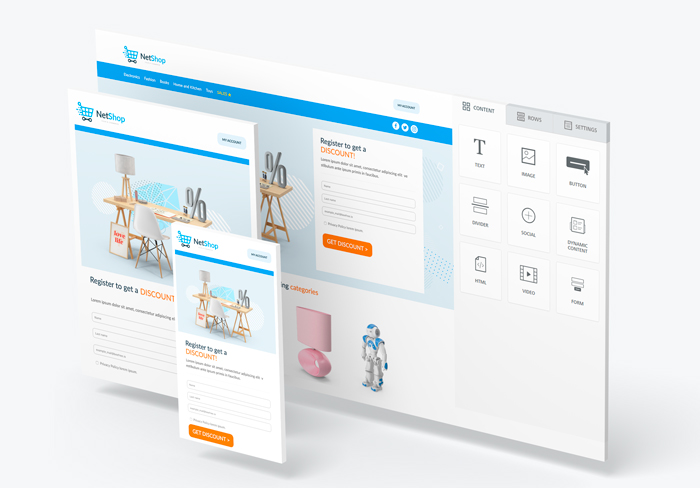 What are the Page Builder main features?
What people love about Beefree is its unique combination of design flexibility and ease of use, which certainly remains true with Page Builder. The new Page Builder will help them create beautiful, responsive landing pages, complete with forms and embedded videos. 
Since often you have both an email and a landing page as part of the same campaign, SaaS apps that take advantage of both Email and Page builder will now have the power to deliver to their customers a single, optimized user experience for designing both, and quickly go from email to landing page, or vice versa.
Page and Email builders share the same core functionalities, so existing users of the email editor will feel at home with the new product. In addition, they will find new features that make sense for web pages, such as forms, embedded videos, wider structures, and the ability to paste scripts, like an embeddable SurveyMonkey or Typeform survey.
What are the next steps on the Page Builder development roadmap?
We're adding some new content blocks to the editor that make sense for pages. For example, in-page navigation: in an email it doesn't work because of technical issues with some email clients, but in a Web page it certainly does. It can help both with long pages (e.g. a long article with a table of contents) and with one-page Web sites (graphically different sections that feel like different pages, but technically are parts of the same page). This and many other enhancements are coming out very soon.
Is Beefree planning any activities to support companies in navigating the Covid-19 emergency?
We are very aware of the current economic situation, and therefore are happy to give all existing and new customers three months in which they can use the new Page Builder absolutely free. Many SaaS companies have already taken advantage of the offer, and we truly hope that this allows them to make their products even stronger, so that – when the economy rebounds – they will rebound even higher.
Moreover, we have published on our Email Design blog tips and guidelines to help brands communicate effectively with their audiences during these delicate times, and created 3 email templates that can be used as a starting point for company communication related to the current crisis. The templates are free and can be edited with the Beefree editor, then downloaded and used anywhere. 
Interview by Maria Giulia Ganassini
Corporate Communications Lead, Growens