On a mission to carbon neutrality, by offsetting website emissions
The continuous effects of global warming on our planet keep bringing a large number of institutions, companies and citizens closer to more sustainable actions.
Since the main cause of climate change is due to the sharp increase in carbon dioxide and other greenhouse gasses in the atmosphere, many companies in recent times have set out to become Carbon neutral first and then Climate positive. We will talk more about these two topics soon. 
Growens shares the same goal. One ​​of our company's values is precisely that of caring, not only aimed at people but at the environment too. This is the reason that led the company, over the years, to concretely commit to limiting its own impact on the environment.
Today we take a step further, making Growens' online presence equally sustainable, fully offsetting the carbon dioxide emissions produced by traffic on the growens.io website.
How to make a website carbon neutral 
We are pleased to announce our new project which aims to make the growens.io website entirely carbon neutral, with the support of Tree Nation.
To achieve this result we rely on a service called "Net zero website", offered by Tree Nation.
This service provided our website with a smart label, set in the footer, that is able to track and calculate the CO2 emissions produced by our website and automatically plant trees to compensate for them.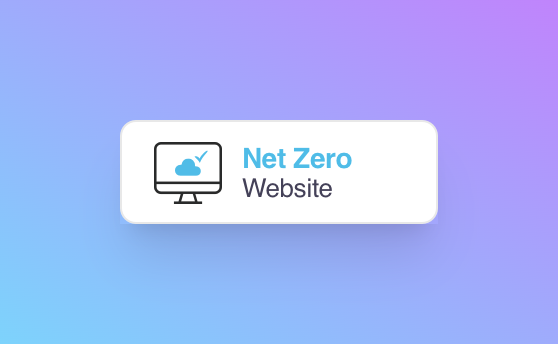 Our forest will keep growing.
The environmental impact of the internet
Often, we forget how the internet has a real impact on the environment. Any operation performed on the internet, even the simplest, consumes electricity. As a result, a large amount of CO2 is dispersed into the environment.
According to the researcher Mikes Hazas of Lancaster University, the carbon footprint of our electronic devices, the internet, large datacenters and servers, that allow the internet to function, are responsible for nearly 3% of global greenhouse gas emissions.
Unfortunately, this trend will keep increasing and this is the reason why every action that aims at saving and offsetting part of the emissions, generated by the web, has a real impact on the future of our planet.
What is the difference between being Carbon neutral and Climate positive?
As previously mentioned, in the last few years a growing number of companies has included sustainability principles in their business practices. 
The main goals can be becoming carbon neutral or climate positive. In particular a company can be defined as:
Carbon neutral

, when any CO2 released into the atmosphere from a company's activity is balanced by an equivalent amount being removed.

Climate positive

, when activity goes beyond achieving net-zero carbon emissions to create an environmental benefit by removing additional carbon dioxide from the atmosphere.
Growens and sustainability
Since caring for the environment has always been an important part of our company's DNA, since 2007 we have been investing in initiatives related to sustainability. During these years Growens has:
been planting

forests

to fully offset its carbon emissions

generated the photovoltaic energy it requires to work thanks to special Smart Flower

solar panels

chosen certified

buildings

that are designed to optimize energy consumption and minimize waste

promoted a

mindful approach to resources

, minimizing any unnecessary usage of paper and plastic.
These initiatives are only the beginning of our path in favor of sustainability, more is to come.
Wrap up
Growens has always paid great attention to the environment and always will. Day after day we work to minimize our impact on the planet, aiming for carbon neutrality.
The next step is becoming climate positive too and in order to start this journey, we already have something in mind that will not be long in coming.
To learn more about Growens' initiatives related to sustainability, it is possible to consult our last Sustainability Report .
Article by Elisa Battigelli
Junior Corporate Communications Specialist, Growens