Our Design Organisation, Built Through Intentionality And Humanism
2020 marked for Growens (then still MailUp Group) the start of a process aimed to transform the way it thinks, does and communicates design, with the ultimate goal of becoming a real design organisation. 
This started with the creation of a Group Design department that, under the direction of Design Lead Chiara Scesa, would orchestrate and uplevel the design processes and skills within the entire organisation, cross-functionally and across all business units. 
A Long-Term Design Strategy
As soon as it was created, the new department set out to:
Bring intentionality and humanism

to the way the Group designs products, services and experiences

Create a Human-Centred Design (HCD) culture and practice

,

in order to find new ways to create business value
Within the Growens group, the design business value is delivered by:
Creating consistent and effective experiences
Making useful and desirable products
Orchestrating seamless and meaningful services
for current and future customers, users, and for other employees. 
The Group Design strategy spans three years and focuses on five key pillars: user experience, cross-functional talent, continuous iteration, analytical leadership, and design ops. 

With the design maturity level of the Group in need to be upleveled, new processes are to be implemented. Such processes are inspired by ISO standards 27500 (The human-centred organization) and 9241 (Ergonomics of human-system interaction – 210 and 220), although adapted to the specifics of each business unit within the Group:
Process 1: Ensure business unit focus on human-centred quality
Process 2: Enable HCD across projects and systems
Process 3: Execute human-centred design
In 2021, aka the second year of the three-year program, the goal is to formalise design as a scalable function. We will move beyond basic participatory design processes through shared ownership, role clarity, joint accountability, and more documentation of what are now more substantial design practices. 
This will enable design to support more complex product ecosystems while integrating into equally complex internal operating structures.
Building A Design Community
Once defined the general goals and mission of design, it's time to start delivering by – first things first – increasing internal awareness on design topics and creating the conditions for a common design culture. And what better way to do this than by establishing a corporate Design Community?
A Design Community is an environment for designers and non designers that allows cross meetings and pollinations in an associative and not hierarchical way. Everybody is welcome, as long as they feel open to sharing and listening to others.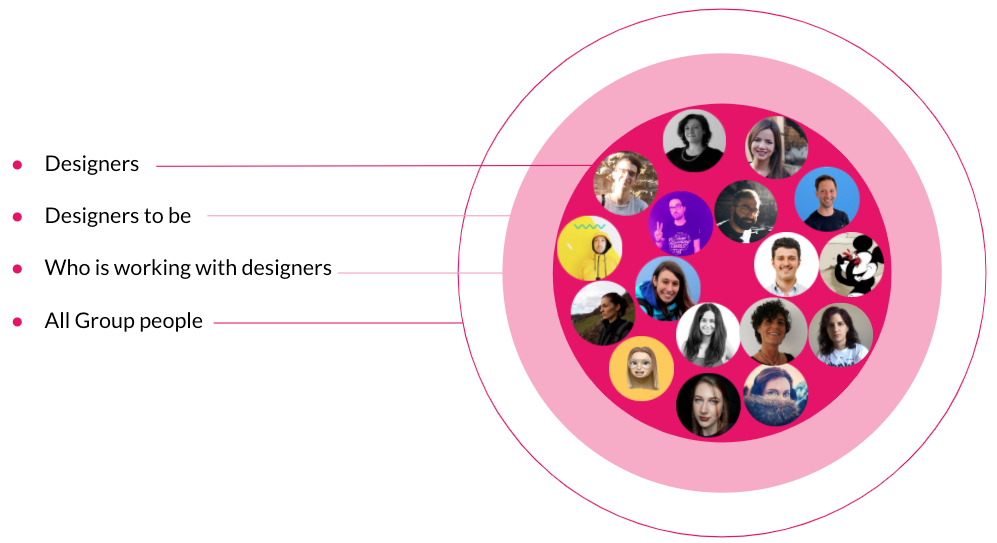 In the Design Community, designers spread informal knowledge on tools and methods, or share insights gathered at external conferences.
They also work at creating a Design Archive, where they collect design courses, specific design documents, and a digital design book stack. 
They discuss case studies, deep dive into specific topics in order to make them more accessible to others, and have the proper space to safely suggest innovative projects and ideas.
The Design Community does not deliver value only to designers, though. It is a valuable asset meant to enrich the whole Group. This is achieved, for instance, by creating a Method Bank and a case study library, open to anyone within the organisation in need of leveraging the know-how already available. 
The Design Community isn't just a program – it's each designer and their daily actions. Everyone is welcome to join, learn and grow, to share challenges and knowledge, to build lasting relationships and to do the good of other people in the Group, while having fun on the way.