Designing innovation at Growens
Our new blog tells stories of innovation, change management and value creation.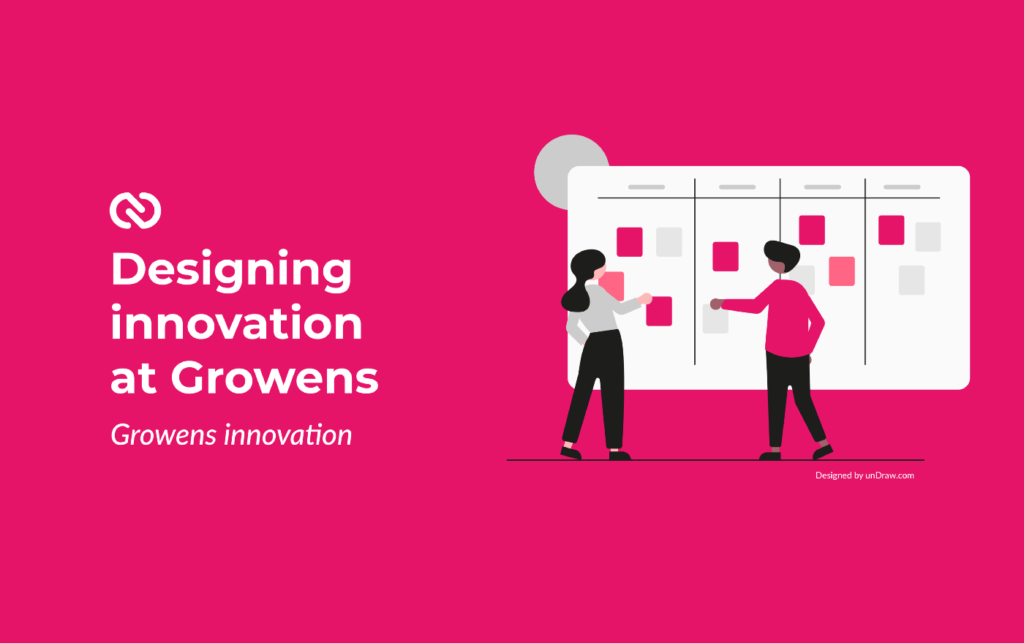 The article you are reading is part of an innovation effort. Let me explain my first sentence, but first, presentations!
My name is Chiara Scesa and I lead the general practice of Human centered Design at Growens.
I entered this incredible company in September 2019 and I was "the first of my species", the first Design lead in this context. We will get into detail later — for now, let it be enough for you to know that the person talking to you has the goal to push (more formally, innovate) the design practice in order to promote innovation at wider scales.
What innovation is at Growens
Innovation at Growens is the key factor for sustained growth, economic viability, and increased well-being of its people. In short, it is the only way for our context to develop.
The innovation capabilities of our Group include the ability to understand and respond to changing conditions of its contexts, to pursue new opportunities, and to leverage the knowledge and creativity of people within the organization, also in collaboration with external entities.
Design methodologies and technology applications are cornerstones of this approach towards managing change in a number of contexts (products, services, processes, models, businesses, methods…) and redistributing value.
Telling your stories of innovation
Why is this article about Design practice part of an innovation effort?
At Growens the Design practice has an understanding of the organization and the stakeholders, has a scope, leadership, vision, a strategy, policies, roles and responsibilities, has a plan to achieve objectives, operations, a performance evaluation and, last but not least, includes support and improvement activities.
All the elements we listed for the Design practice are also present when considering the management of an innovation system: context of the organization, leadership, planning, support, operations, performance evaluation, improvement.
Can you see how close you as a professional are to innovation efforts every time you embark in an activity that has the intentional potential to change an old situation to create new value? Can you see now how much innovation you have been doing in your daily work?
You and your teams innovate every time you do these steps: you understand the context you want to change, you define the strategy and the plan to change that context and then find the right support, the right operations, and the right performance evaluations. You innovate not just when you succeed in the activity, you innovate also when, after failing, you find improvements to be done in a previous change effort.
With this blog we will offer you demonstrations and case studies of innovation efforts within Growens. We will present examples of innovation efforts powered by design methods and technology capabilities in order to give our colleagues and external professionals the awareness of what innovation means for us.
Our innovation principles
Innovation is not just about flying cars or teleportation: at Growens it can be about a new way of working, a new data visualization dashboard, a new product feature or a new North Star metric.
In a few bullet points, this is what Innovation means for Growens:
Realization of value:

We realize value with the deployment, adoption and impact of new or changed solutions for stakeholders.

Future-focused leaders:

Our leaders at all levels are driven by curiosity and courage, they challenge the status quo by building an inspiring vision and purpose and by continuously engaging people to achieve those aims.

Strategic direction:

Innovation activities are directed towards ambitious, aligned and shared objectives, they are supported by the needed people and resources.

Culture:

Shared values and behaviors, supporting openness to change, risk taking and collaboration enable the coexistence of creativity and effective execution.

Exploiting insights:

We use diverse internal and external sources to systematically build insightful knowledge, to exploit stated and unstated needs.

Managing uncertainty:

We evaluate, leverage, and then manage uncertainties and risks, we learn from systematic experimentation within a set of opportunities and iterative processes.

Adaptability:

We timely address changes in the organization adapting structures, processes, competences and value realization models to maximize innovation capabilities

Systems approach:

Our approach to innovation is based on interrelated and interacting elements and regular performance evaluation and improvements of the system.
As I always ask: does this make sense to you?
If the answer is yes, go on reading the first story about innovation efforts that I can attest to as a Design lead. More will come.
Innovating the Design practice at Growens
The Design strategy has come a long way since the first draft presented in December 2019 to the Growens board of directors. The Design practice within the Growens group and its Business Units has also changed a lot since then. I will give you a glimpse of beauty by telling you what it was like then and what it is like now: how it has been able to innovate itself in order to help innovating.
When we started intentionally taking care of design we defined a leadership with a role: creating a culture, a formalized practice and organization for design to support the business in creating new value. Design had to grow from a role that at that time was to "produce stuff" into something involved in the business goals of the company. That involved a shift to a new mental model both for managers and for designers. We set some macro objectives on the maturity of Design as a practice and as a business function and then we went down to single strategic projects and annual plans.
This was the situation in 2019 considering elements like Strategy, Culture, Process, Outcomes.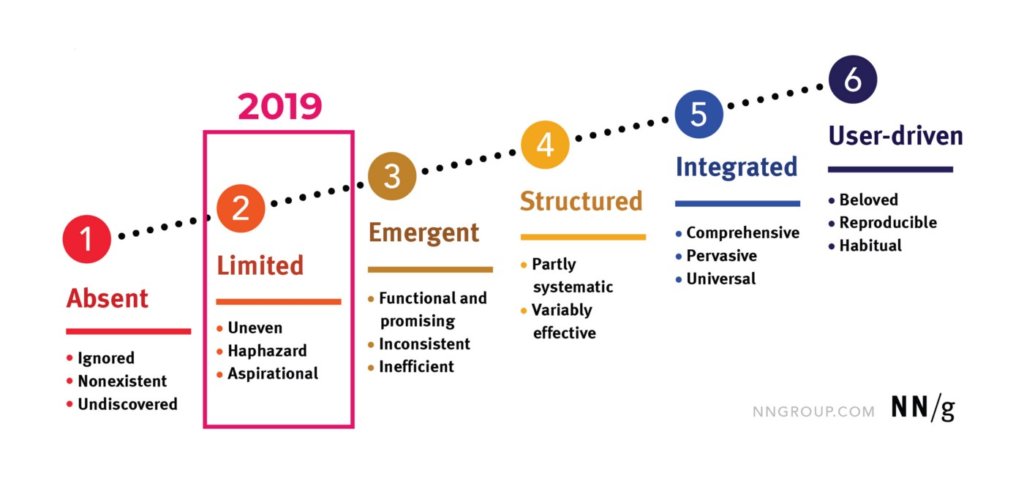 Then we worked on the context in collaboration with a lot of internal actors: business managers in Product and Marketing areas, People & Culture colleagues, technical leaders, finance and procurement owners.
We moved many levers in three years, sometimes we succeeded, sometimes we learned and so we tried again:
We defined Design roles, activities, and prioritized resources

We changed the knowledge about what Design is and attitudes towards Design

We developed Design careers and practitioners' growth

We systematized and efficiently used research and Design methods at all levels of the business pyramid

We intentionally defined goals and measurements of the results produced by Design work
We will give our readers accounts of all these evolution's stories in the coming months. I used the word evolution because in three years we have indeed moved the needle up.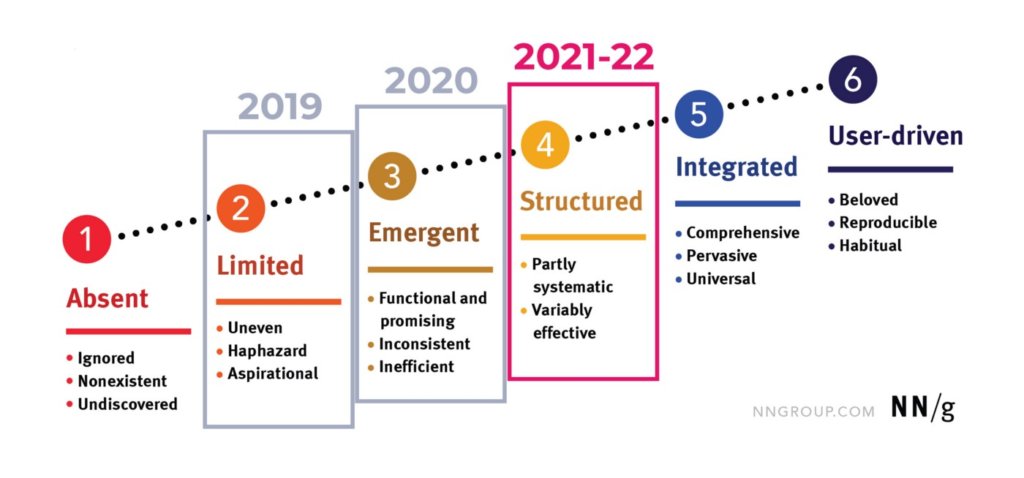 Of course reality is complex: our Business Units are not at the same level when assessing the maturity of the Design practice, but this is expected in a composite organizational environment like Growens'. The important thing for our Group is not to leave anybody behind: newly merged realities as much as historical ones.
The common essence of Strategy, Design, Innovation 
Before wrapping this article up, I would like to go back to three concepts that are essential to our Design practice, and equally so in our strategic thinking and innovation efforts:
Strategy, Design, Innovation
Is an everybody responsibility, not a siloed function
Is continuous and intentional iteration: listening and measuring, testing, learning from failures
Is orchestration and optimization alike in order to amplify the impact of new value creation efforts
Try swapping the terms Strategy, Design, Innovation in this list: they make sense just the same.
Does this make sense to you?
The original article was published on our Innovation blog.
Article by Chiara Scesa,
Design Lead, Growens