Attribution of MAIL shares to certain employees and associates
MailUp S.p.A. (MAIL) (the "Company" or "MailUp Group"), MailUp S.p.A. (the "Company" or "MailUp"), a company admitted to trading on the multilateral trading facility AIM Italia / Alternative Investment Market and operating in the marketing technology field, hereby notifies that today – following the Board of Directors resolution on 6 May 2019 – n. 89.839 shares were assigned to certain managers and associates following the positive verification of the current MBO plan. The shares will bear a lock up of 30 days.
The above-mentioned shares come from the stock of treasury shares owned by the Company, acquired as per the resolution of the Company's General Shareholders Meeting on 26 April 2018 and recently brought forward by the Company's General Shareholders Meeting on 18 April 2019. Such resolutions – which granted the Board of Directors powers to purchase and dispose, for an 18-month term beginning from the date of the resolution, up to a maximum number of treasury shares which may not exceed 10% of the share capital – allow the use of treasury shares towards beneficiaries of stock option plans or implementing new plans or free-of-charge allocation to shareholders, in compliance with the rules and regulations in force, including through intermediaries.
Therefore, today each applicable beneficiary of the MBO incentive plan, who explicitly requested it, received a corresponding number of shares calculated on the basis of the weighted average share price of the 30 (thirty) – days period ending on 2nd May 2019, hence at a share price equal to Eur 3.17.
Following the MBO shares attribution, MailUp's capital structure is as per the below: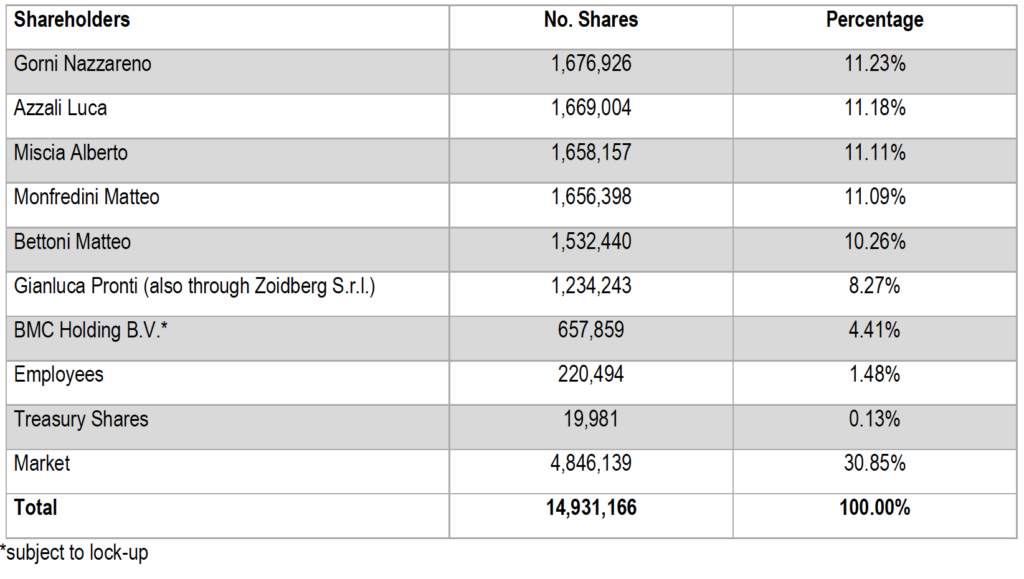 As a result of the above, the subscribed and paid-up Company share capital will not change, whereas as of 10 May 2019, MailUp directly owns n. 19,981 treasury shares, representing 0.13% of its own share capital.
Download the press release