MailUp and 4-Tell: together to re-engage prospects
MailUp launches the upgraded version of the 4-Tell extension which provides you now the opportunity to re-engage potential buyers who, for various reasons, dropped the browsing session and left your website, even after browsing multiple pages of the online product catalog (abandoned browse), or who did not complete the purchase (the so called "abandoned carts").
Create campaigns based on user behavior
The integration between 4-Tell and MailUp opens up new scenarios for automated marketing based on Web site activity, including shopping activity on an online store. Through this integration you can set up an automatic remarketing campaign based on specific user behavior, such as shopping cart or Web page abandonment. The emails created and sent via MailUp are already optimized for mobile devices, thanks to BEE, the cutting-endge, drag-&-drop email editor that's built into the email marketing platform. The integration with 4-Tell also allows MailUp users to include – with very little effort – personalized product recommendations in those messages. Based on a match between who the recipient is and what information is available about that recipient in the 4-Tell system, some of the content in the email is populated dynamically (e.g. product names, images, and links).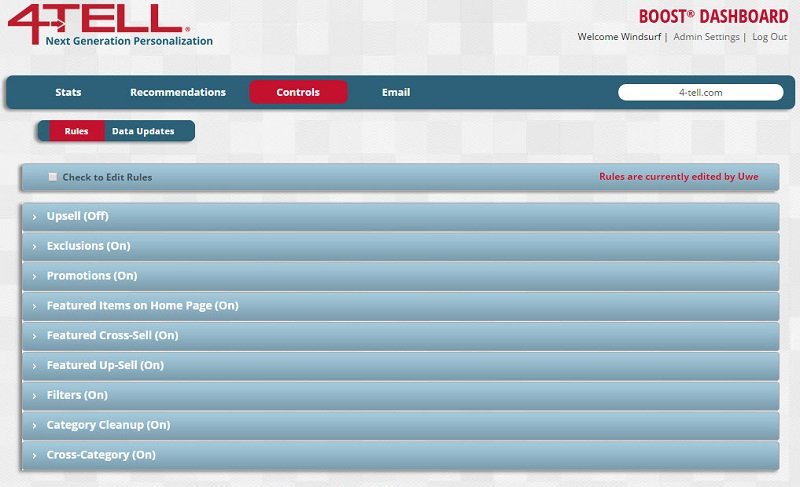 An affordable and intuitive tool
MailUp and 4-Tell integrated tools are accessible to all. Massimo Arrigoni, CPO MailUp, stated: "This type of solution is typically too expensive for companies without a 5-figure budget to dedicate to it. From now on, all companies can access an affordable, easy, and intuitive tool to send an email to all those – customers and prospects – who are visiting their Web site and abandon a page or don't complete the purchase. Email has proved time and time again to be the simplest and most effective way to attempt to re-engage those otherwise lost opportunities. The ability to boost sales can be very positively impacted by being able to customize each message based on user behavior".