Smart working: Why the BEE team works from home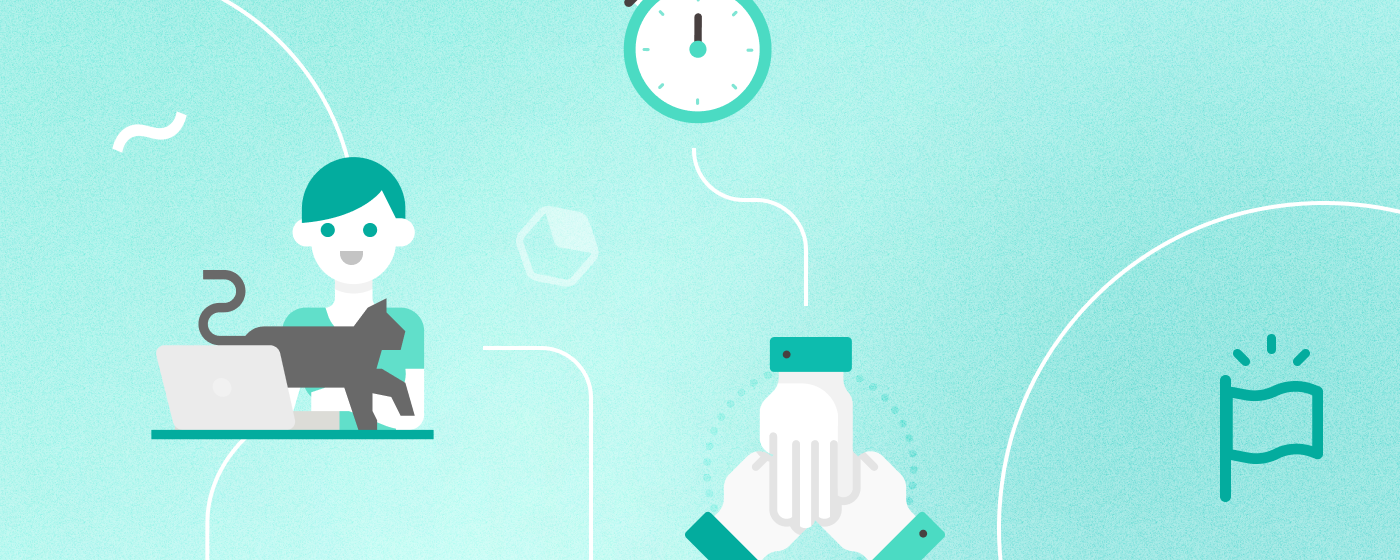 At this point, most people have lived and breathed remote work for long enough to have an opinion on it. We won't bore you with another article about what it is or how it works.
What we will do is explore smart working and why the BEE team won't be "going back to the office". Spoiler: we won't be implementing mandatory hybrid work policies, either.
If you haven't come across the idea of smart work before, buckle up. We're about to take you on a ride to the future of work.
What is smart working?
Smart working is not the same as remote work. Remote work often tries to replicate office environments — which is a recipe for failure according to publications like Inc.
Smart working, on the other hand, sets up new rules and expectations that let teams take advantage of the benefits of remote work. All while keeping business goals intact.
All smart working is remote work, but not all remote work is smart.
Mariano Corso, the co-founder of Osservatori Digital Innovation and Scientific Director at Partners4Innovation, summarizes this perfectly:
"Smart Working means re-thinking remote working under a smarter look, challenging the idea of working tied to a place and a timeframe, giving people more freedom in defining their own routines in exchange for higher responsibility and focus on goals. Autonomy, but also flexibility, responsibility, talent enhancement and trust become key pillars of this new approach."
This quote hits all the vital points we want to cover. Let's dive into how it works at BEE.
How BEE does smart working
We consider ourselves fortunate. When 2020 lockdowns took place, there were many fears and anxieties. We were worried about our health, our families, and our communities. But we were spared from worrying about our workspaces.
We've been a remote-first company since 2014. When lockdown happened, our remote processes were already in place. Because of this, we were able to transition seamlessly to a fully online environment.
Again, we are extremely fortunate and grateful to have been prepared. Having a smart work culture kept us going during a time when everyone needed to take care of themselves and their loved ones.
Here's the breakdown of the most important aspects of smart working at BEE.
Challenge: Reaching Goals
Solution: We worry less about working hours or work location and more about defining and reaching goals. When people start or end their day is less important than being aligned with the team.
This doesn't mean we exist in a vacuum. We still work 8 hours per day on average. The difference is each person is free to handle and shift those hours as needed, whether it's picking up kids from daycare or taking a midday nap.
Overall this means less stress and more work/life balance. Which oftentimes means more productivity, not less.
We're not alone in this perception. According to Microsoft, 74% of leaders believe remote work makes their team equally or more productive than before.

Remote work also means that our team can work from anywhere. This benefits the team because we can pick the best brains from any geographic region and continue to grow as a global company. Individuals benefit because every person chooses where they log in from.
But with great power comes great responsibility…
Challenge: Responsibilities
Solution: Smart work is about empowering and trusting your team. No individual controls anyone or their work, but rather we work together to achieve results.
We firmly believe in flat hierarchies (to the extent possible) and sharing responsibilities across the board. This doesn't mean that nobody is responsible. Or that "bosses" don't do their jobs.
Quite the opposite, everybody does their share and everybody is asked to contribute ideas to discussions, double-check work, and challenge misperceptions.
That's part of the reason we implement Shape Up, which puts a lot of power (and a lot of responsibility!) into the hands of each team member.
At BEE, we don't like to work with robots that enjoy isolation. We prefer to work with people who express what they think and aren't afraid to collaborate with peers, direct reports, and managers alike.
Spreading responsibility means there are fewer "single points of failure" during the decision, design, and development processes. Someone who is having a bad day is less likely to make a bad decision if they're not alone in making it.
This requires talking and communicating…a lot. And in the right way.
Challenge: Communication
Solution: Since we are a global company with people from all over the world, communication is key. Everyone brings their personal culture to the table, so flexibility is required. But company netiquette is equally as important.
Some of our netiquette rules include:
Schedule Google Meets only when necessary and respect everybody's time (don't start late or run over)
Cameras on during meetings; make sure your microphone is working; mute yourself when not talking
Over-communicate on Slack, but don't disturb needlessly
Document and share whenever possible
It's worth noting that we've always had the option of working from our offices in Cremona and San Francisco, so extra effort was asked of people moving from office to fully remote work.
In the office, we were bathed in "background noise". You could pick up information by simply being around coworkers. Now, the same information must be shared explicitly (either via Slack, email or Confluence). Everybody needs to know what's happening; this requires a certain dose of diligence and care.
When there isn't enough communication, responsibility kicks in to fill the gaps. It's never one person's fault; the whole group needs to make sure information is being shared.
Correct communication is vital in our work, but it is not enough to be successful…
Challenge: Teamwork
Solution: A cohesive, happy team will lift you up. Working with people you've never met is difficult when team spirit feels ephemeral. The most dangerous risk of a disjointed team is disengaged team members who do the bare minimum.
To remedy this, we take time to form the necessary bonds and we hire people that embody our values of caring, participating, sharing and constructive feedback.
From a managerial perspective, we doubled down on activities like:
1:1s to be sure everybody is happy and satisfied and to tackle issues as soon as they arise.
Using collaboration techniques. For example, the dev team loves doing pair programming, mob programming, group code reviews, etc.
Organizing weekly or biweekly "breaks" to get together online, share trivia, have fun, and play games.
Our yearly company-wide retreats and team retreats (we try to meet in person whenever possible)
One-man armies don't bode well with our culture, and we try hard to ensure everyone feels connected to this amazing group of people who are willing to help each other, have fun and kick ass.
Happier team = Better products
As our Content Strategist, Jules Costa, likes to say, "Our focus on people internally helps us to be more people-focused in our products. We build tools that make sense for humans and make individual lives easier."

We were born as a hybrid company, with a good chunk of people working from their homes from the jump. A byproduct of a happy and productive team is a great and awesome product. When everything about your work environment is perfectly balanced (as it should be), your output is at the top of your game and you feel pushed to create the best product possible for your customers.
We believe that smart working is the future for many types of businesses and once everything is set properly it just rocks. Why? Because it prioritizes the thing that matters the most in a workplace: the people.
Smart working gives people back the keys to their life, while also empowering them and making them feel part of a larger team. Remote work can be alienating so it's important to stay in touch often, also for non-work-related things.
Implementing a smart work environment is not an easy feat. It requires strategy and discipline to pull off, but the dividends come with time.
The original article was published on the BEE Plugin blog
Article by Marcello Garini,
Fullstack Engineer Manager, BEE