At the Foundations of Growens: an Interview with CEO Nazzareno Gorni
It was the early days of 2002 when a small digital agency was established in the Italian town of Cremona – the birthplace of the violin. Several years later, that small agency was to become the MailUp Group and later Growens. But how, exactly, did this evolution happen? How did five young entrepreneurs grow what today is a multi-million group of five companies, active all over the world, with average double digit growth rates?
Today we'll deep dive into the history and evolution of MailUp Group with Nazzareno Gorni, one of its co-founders and today its CEO. Together with the other co-founders, Nazzareno had the first intuition of the right software tool to develop, and in 2014 led the IPO that brought to the subsequent corporate acquisitions.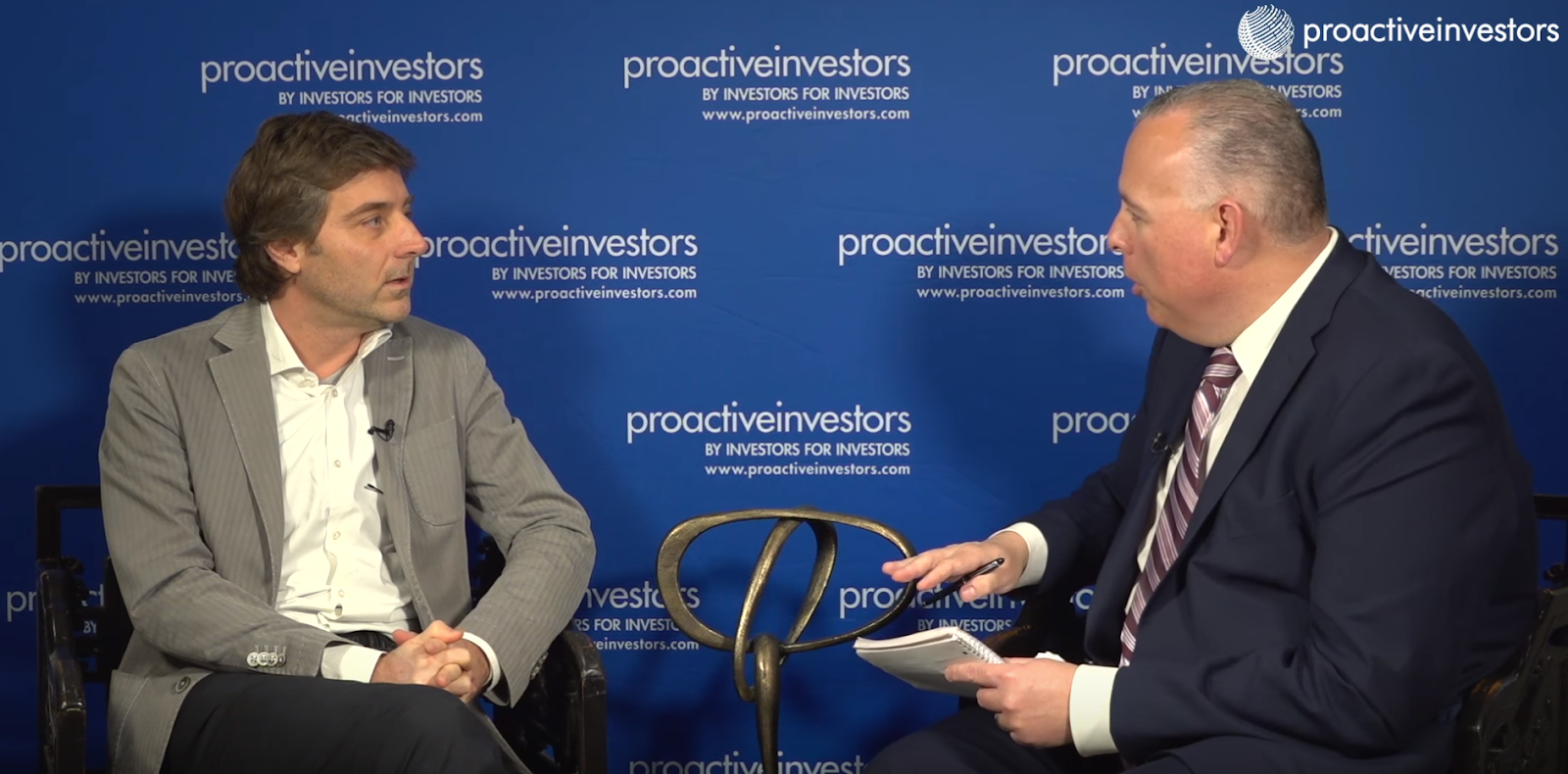 Nazzareno Gorni, pictured left, at an investors event
It's important to highlight that all five co-founders – Matteo Monfredini, Luca Azzali, Matteo Bettoni, Alberto Miscia and, of course, Nazzareno Gorni – are still in force at the Company as top managers and are among its main shareholders. This 18-year-long commitment represents a crucial cornerstone in our corporate identity, as our top management is deeply invested in the success and growth of the Group.
Let's start from your roots: when did you realize you wanted to work with technology?
It's a realization I made very early on in my life. I was just 9 years old when my father brought home one of the very first Commodore computers and I started playing with it. I then moved on to study Business Engineering, and got my first internship at Markab snc as a consultant, webmaster, IT technician, market researcher, speaker, trainer, journalist, analyst… and newsletter sender. 
Electronic newsletters were only dawning back then – it took me eight hours on average to create and send each one. After five years at Markab, I got back in touch with my high school classmate Luca Azzali and we decided to join forces in opening our own web agency, along with three other partners and friends, with an overall capital of €15,000.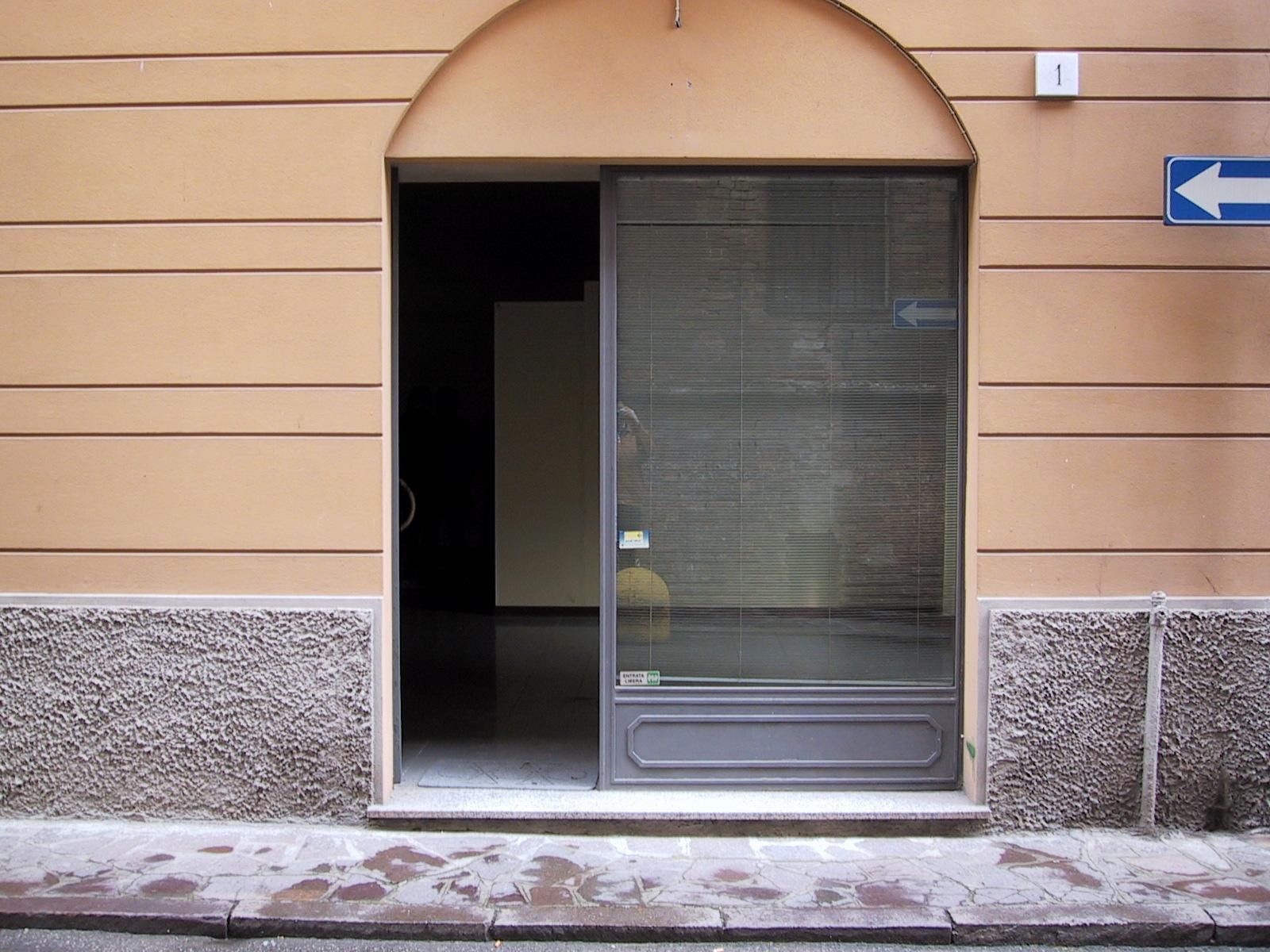 The entrance to the very first office in Cremona
In the long road from local agency to global group, what was the first major turning point?
During the first few years, just like in many other bootstrapped companies, we used to spend most of our time trying to convince prospects to get a new website or explaining why to set up AdWords campaigns. Exciting, rewarding, yet often tiresome.
In between customer projects, our agency started developing its own cloud software (later called SaaS), including an online large file transfer system, a community CMS (for customers to build their own Facebook), a CMS, an e-commerce platform and, most importantly, an email newsletter tool, called N:Newsletter. Interesting, and yet, they turned out to be too many services with too little cash for development, maintenance and marketing, which made the whole endeavor ultimately untenable.
This is why in 2004 we decided to narrow our focus on the most promising, easiest to sell service. N:Newsletter became MailUp, with its own website. A few AdWords campaigns got the first customers coming, and this enabled us to keep investing and growing.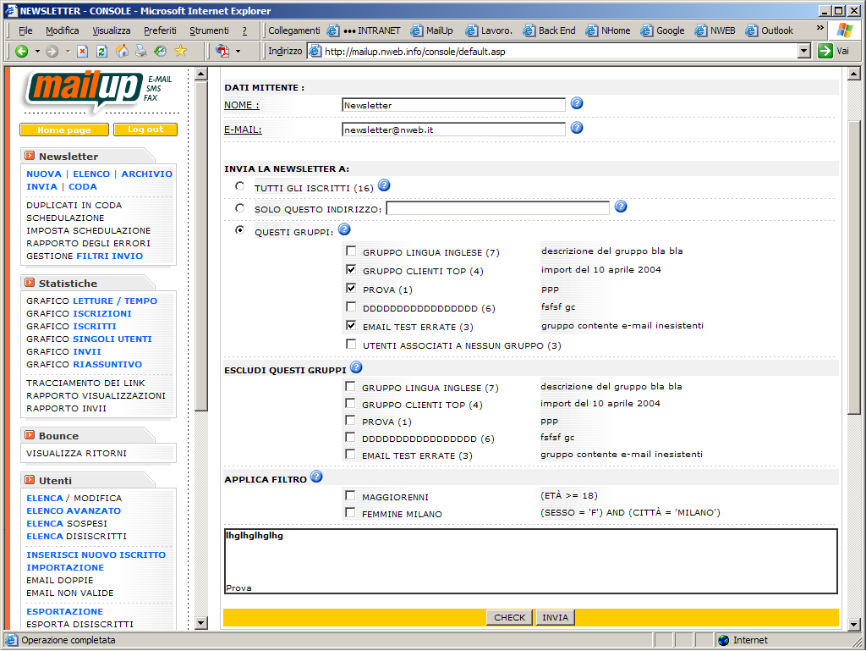 The early look & feel of the MailUp platform
How did you support ongoing growth?
As early as 2008, MailUp was the n.1 email newsletter software in Italy for number of users – in spite (or maybe thanks to) a strictly ethical approach to business that didn't make it any easier to be competitive on the market.
We never increased margins by relying on underpaid interns or freelancers, but invested in top-of-the-game permanent staff. We never allowed our customers to spam – even when it meant turning away high-spending, cash-cow-kind of type clients. We never sold any personal data (long before GDPR).
In 2009 the time came to make the shift from a service company to a product company. The old business lines got shut down and all efforts concentrated on the MailUp business, thus reaching €6.4m in revenues in 2013.
And then, it was time to go international. 
Yes. Growth and ambition led us to start playing at an international level, where we found ourselves competing with large, established players. We realized we needed help. After evaluating the VC path, we did our IPO in 2014 on the AIM Italy market, raising €3m first and €6m later, in 2017. 
Fresh cash helped speed up activities and the international footprint, thanks to steady organic growth together with 5 acquisitions across Europe.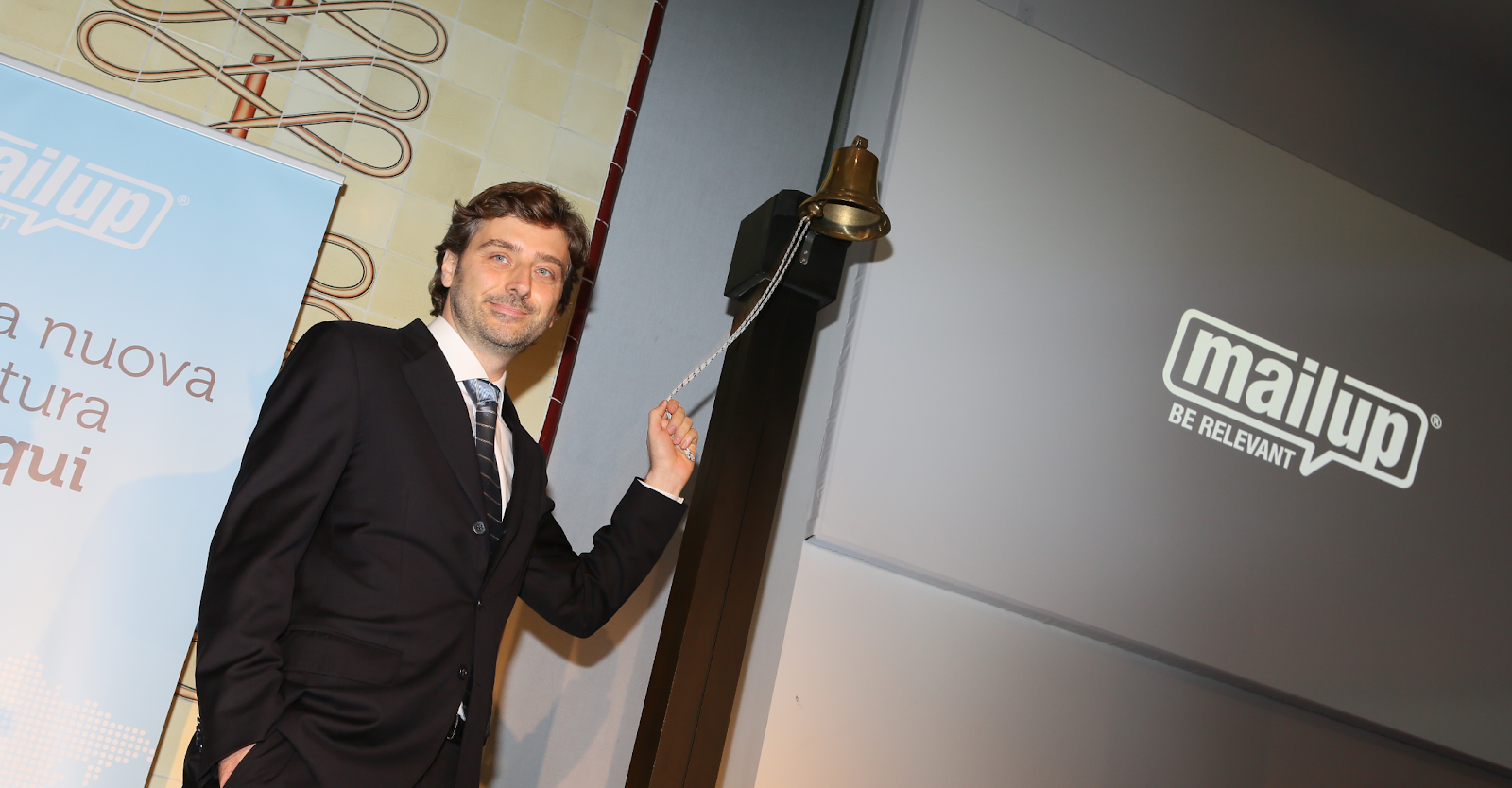 Nazzareno rings the traditional bell in occasion of MailUp's first day on the Milan Stock Exchange
Did you encounter any challenges along the way?
Of course. Like any entrepreneurial story, we had our fair share of failures and misfortunes. Both our attempts at expanding our business in the United States, in 2006 and 2011, turned out quite unsuccessful. We appointed the wrong people to do the job and found ourselves back to square one – twice.
The important thing is to recognize whatever good can be extracted from bad situations – during our American venture we got to meet Massimo Arrigoni, who has been a crucial member of the company's top management ever since and today acts as General Manager of the BEE business unit.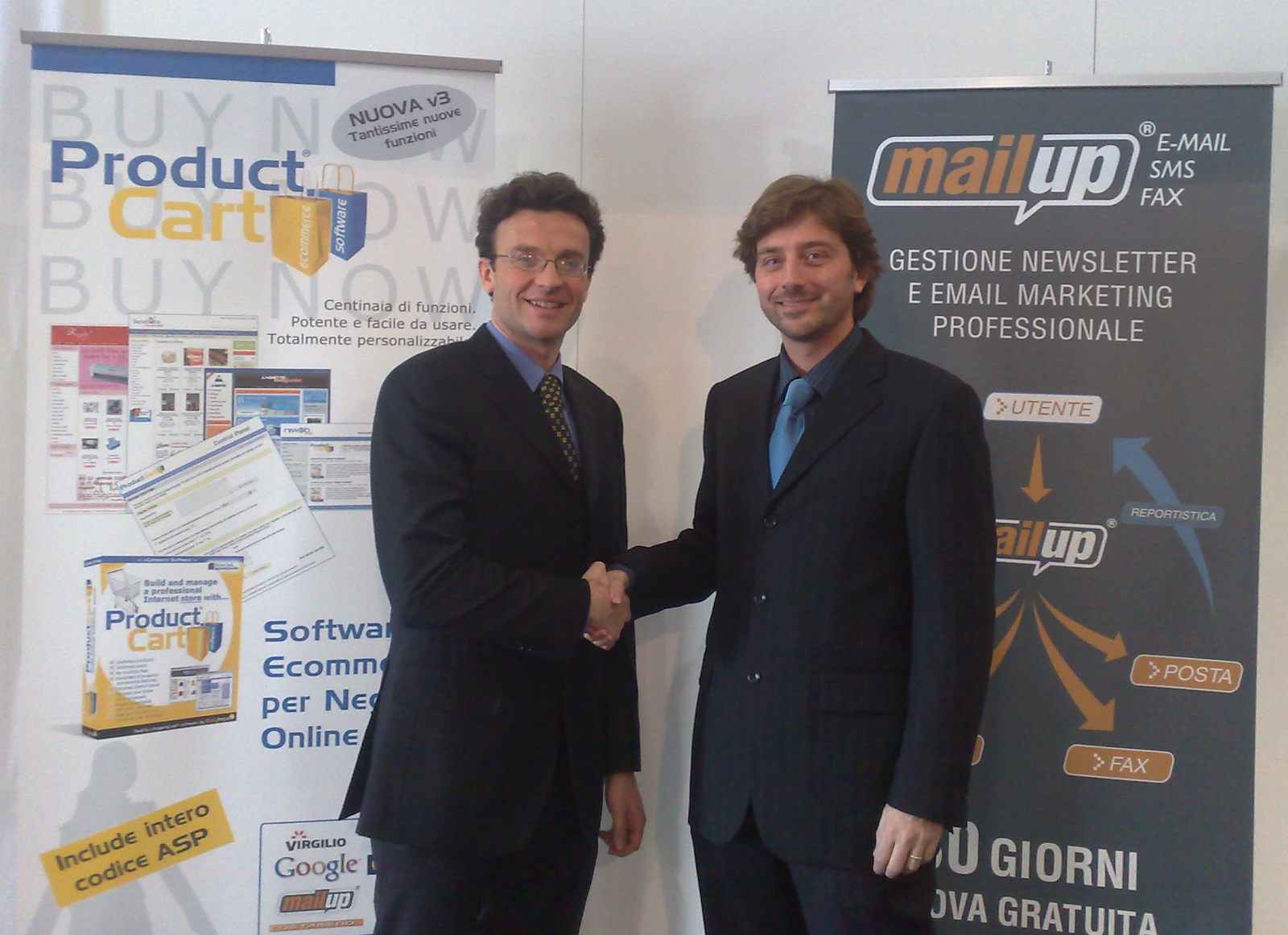 Massimo Arrigoni (left) and Nazzareno Gorni (right) in 2008
Also product-wise our evolution has been dotted with experiments and failed attempts. Technology moves fast, so what seems promising one day may be outdated on the next. Over the years we have invested in researching and developing technologies for fax, voice, social media, printed letters, and more.
None of these eventually worked out, but we would never have known unless we'd tried them all. Our drive and commitment have always been strong enough to let us overcome critical turns and focus on the next challenge ahead. 
Can you give us a practical example of a product that didn't work out?
The Ad Network Edition (ADNE) was a completely redesigned MailUp platform with completely new dataset. This would allow to address some of the biggest MailUp limitations such as the number of recipients fields and many others. We had a large prospect asking for this and driving the product design, with a few other big potential clients interested. We invested thousands of development hours but the final output simply didn't work. There were fundamental limitations in the software architecture, it simply didn't keep the promises. Plus it was full of bugs.
In the meantime the software architect left the company (right before everyone realized what a dead end we'd been running into) and we also understood that email advertising was a kind of message that would become harder and harder to deliver, and a big chunk of this traffic would have affected the whole MailUp customer base. So the ADNE project was canceled days before even seeing the light.
I regret not having forced this project to become the new MailUp 2.0, or just an external tool to be plugged to the current platform, instead of a different platform for different needs. Once I had shared the product requirements, developers wanted to get started with an entirely new product – I knew it wasn't the right decision but at that time I agreed anyway.
What does Growens look like today?
Today, Growens is the sum of 5 business units serving different markets through a comprehensive suite of technology and solutions – providing platforms for text messaging, email newsletters, email template editing and omni-channel predictive marketing.
The latest additions to the Group include BEE, an incredibly successful startup we established in San Francisco that quickly became the world reference for email template editing, and Datatrics, a Dutch-based startup that provides an AI-driven customer data platform and automatically orchestrates communication channels to boost conversion rates.
In the meantime, stock prices grew from €1.92 (IPO price) to over €4.00. All the largest Italian institutional investors are on board, alongside a few international funds, thanks to transparent communication, a steady growth and good financial results.
What will be next?
Growth, innovation, internationalization are our key pillars, driven by our core values – caring, trust, open-mindedness and passion. We want to keep making a difference in the way companies communicate with their audiences, by providing exceptional technology through an ethical, sustainable, human-centered approach.
Interview by Maria Giulia Ganassini,
Corporate Communications Lead, Growens