Completion of the buyback plan
MailUp S.p.A. (the "Company" or "MailUp"), a company listed on "AIM Italia / Mercato Alternativo del Capitale", a multilateral trading facility regulated by Borsa Italiana, and operating in the marketing technology industry (Reuters: MAIL.MI) (Bloomberg: MAIL.IM) (ISIN IT0005040354), hereby gives notice that on April 27th, 2017 the shares buyback plan approved by the shareholders' Meeting on April 28th, 2016 (the "Plan") was concluded. Under this plan and during the period 27 April 2016 (included) and 28 April 2017 (included), MailUp has carried out trading transactions for a total number of 13,260 common shares, for an aggregate value of about EUR 24,843. All transactions were carried out on the AIM Italia market and at market prices. As of April 27th, 2017 MailUp holds a total number of 52,260 own shares, representing 0.46 % of the Company share capital, made up of 11,330,627 common shares.
Following is a detail of the transactions undertaken within the Plan.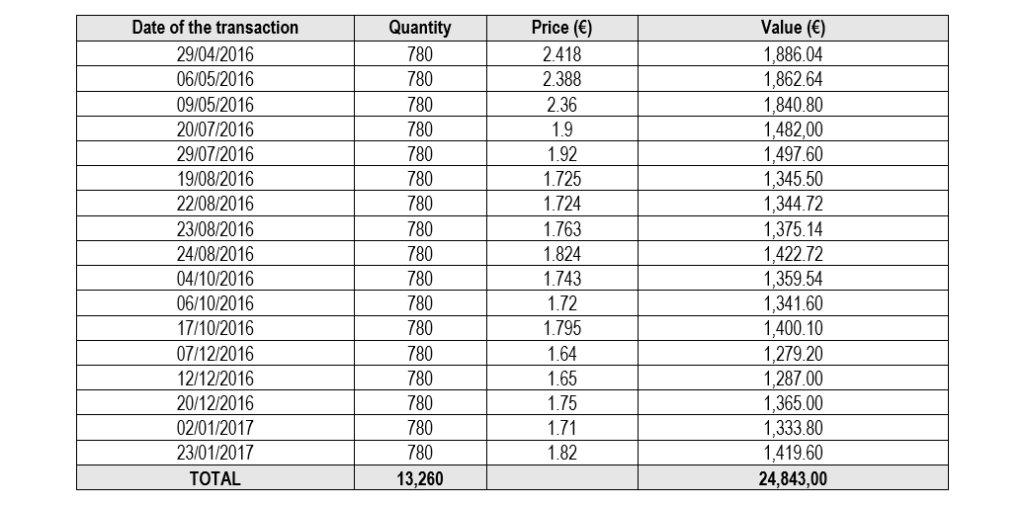 It should be noted that before the adoption of the Plan and as of April 28th, 2016 MailUp held a total number of 39,000 own shares.