MailUp Board of Directors has approved the 2017 consolidated financial statements and the draft financial statements
Download the press release with all financial results
EUR 27.3 million turnover in 2017, compared to EUR 21.6 in 2016 (+26.2%) of which:
Mail turnover EUR 9.4 million in 2017 (EUR 8.4 million in 2016) SMS turnover EUR 15.9 million in 2017 (EUR 11.4 million in 2016) Professional Services turnover EUR 588 thousand in 2017 (EUR 792 thousand in 2016) BEE [Best Email Editor] turnover EUR 483 thousand in 2017 (EUR 154 thousand in 2016) Other turnover EUR 882 thousand in 2017 (EUR 775 thousand in 2016)
EUR 2.9 million of EBITDA in 2017, compared to EUR 2.4 million in 2016 (+19.3%) EUR 1.2 million of EBT in 2017, compared to EUR 1.1 million in 2016 (+6.6%) EUR 2.2 million of operating cash flow, compared to EUR 1.8 million in 2016 (+23%)
Negative NFP (cash) equal to EUR 7.2milion, with EUR 10.7 million of liquidity, EUR 1.7 million of short-term payables and EUR 1.8 million of medium/long-term payables
The Board of Directors proposes to allocate MailUp SpA's operating profit of EUR 1 million to the extraordinary reserve.
Matteo Monfredini, Chairman of the Board of Directors comments: "We end our third financial year as a listed company with another decisive growth of fundamentals. 2017 was an extremely positive year for our group. After having moved to the international accounting standards, implemented a renewed management control system, finalised an incentive plan for the first lines of management, introduced the model 231 required by the Italian Stock Exchange for all listed companies in the STAR segment, in July 2017 we increased the floating to about 33%, successfully completing a collection of EUR 6 million to support our investments and acquisitions plan. In recent months we have set the new course of investments. In 2018, we are aiming at further growth with the goal of reinforcing our European hub positioning in the field of data-driven marketing technologies". MailUp S.p.A. (the "Company" or "MailUp Group"), a company admitted to listing on the multilateral trading facility "AIM Italia/Alternative Capital Market" and active in the field of marketing technology (Reuters: MAIL.MI) (Bloomberg: MAIL:IM) (ISIN IT0005040354), has approved the 2017 consolidated financial statements and the draft financial statements. Main economic and financial results MailUp Group recorded positive results in 2017. Consolidated total turnover went from EUR 21.6 to EUR 27.3 million, with an increase of over EUR 5.6 million and 26% in percentage terms. Turning to the business lines in which the Group business is split, the SMS sector recorded the largest growth with almost EUR 4.5 million of higher consolidated turnover (+39%) compared to the previous year, thanks in particular to the performance of Agile Telecom. Also BEE showed very significant growth, passing in 2017 from EUR 155,000 to a turnover of almost EUR 484,000 (+212%), demonstrating how the product, a sort of start-up within the Group, is quickly meeting favour of the United States' marketers, and not only. The mail sector, by its very nature the most stable and consolidated within the Group, showed a significant increase of 11%, achieving EUR 9.4 million of turnover, increasing by almost EUR 1 million compared to the previous year. In fact, it mainly consists of annual fees subject to renewal unless cancelled, whose churn rate is more than offset by the acquisition of new customers and the up-selling activity with respect to existing customers, who are extremely loyal and sensitive to service quality. Professional Services or PSE suffered a reduction in the specific turnover related to the Globase platform, while recording significant growth rates in the case of the MailUp platform. Consolidated EBITDA reached EUR 2.9 million, 19.3% more than the previous year, also the pre-tax profit remained positive and equal to EUR 1.2 million, in addition to being slightly higher than 2016 (+EUR 75,000), despite the weighting of depreciation (+EUR 371,000) deriving from the large investments mainly focused on the MailUp platform and on the Big Data Analytics project, which went fully operational starting from 2017, in addition to the preparation costs of the new offices of the Cremona headquarters. The year's net profit, after the provision for current and deferred taxes, is EUR 612,000 compared to EUR 812,000 in the previous period, penalized by the increased tax burden of EUR 275,000. It is noted that the Group does not use bank debt to finance operational management. The income statement is summarized below by business unit.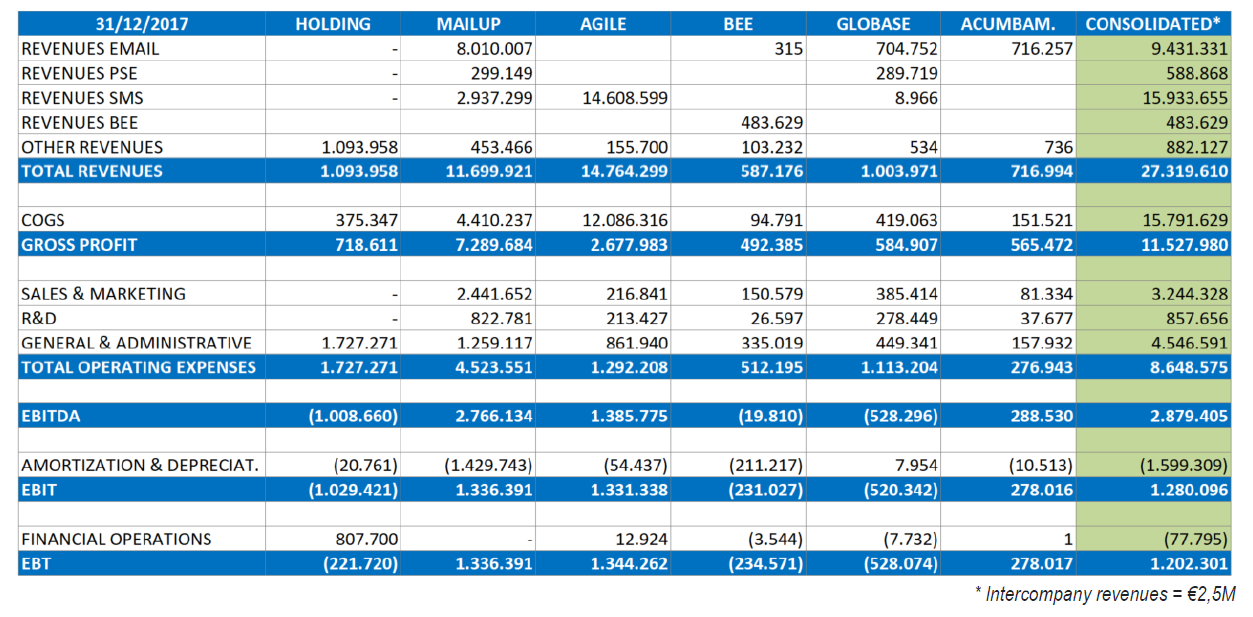 Main events of 2017 During 2017, the activity of MailUp and the Group was characterised by the following events: – MailUp established global coverage for its SMS messaging service, allowing its customers to deliver SMS in all countries of the world; – On 1 February 2017, MailUp 9 was launched, the platform version completely redesigned and enriched with new functions for automation and Email & SMS Marketing; – On 27 February 2017, the organisational rethinking of the MailUp Group structure was completed by means of the merger by incorporation of Network Srl into MailUp, undertaken to optimise the intercompany processes; On 16 March 2017, MailUp Group launched the new institutional site, www.mailupgroup.com, a meeting point between the corporate dimension and the community of investors, analysts and media; – On 27 April 2017, the Ordinary Shareholders' Meeting of the parent company, after the mandate of the Board of Directors expired, appointed the new Board of Directors. In this regard, the Shareholders' Meeting resolved the reduction from 7 to 5 of the members of the Board of Directors, 2 of which meet the independence requirements established in the Articles of Association; -MailUp Board of Directors on 30 May 2017 approved the transfer of the Cremona operational headquarters to the new offices in via dell'Innovazione Digitale 3 (formerly via del Macello), also in Cremona, at the new technology Centre called "CRIT – Polo per l'innovazione digitale [Digital Innovation Hub]"; – On 20 June 2017, the supplementary payment for the earn-out to the company Zoidberg S.r.l. was defined, in agreement with the sellers, relating to the purchase of 100% of the share capital of Agile Telecom S.p.A., finalised in February 2016; – On 22 June 2017, the Group completed the acqui-hire of MailCult, one of the international competitors of the BEE (http://beefree.io/) product developed and marketed by MailUp Inc., an American start-up based in Silicon Valley 100% owned by MailUp and organised according to the dual company model (business team in the USA, technological team in Italy), which has developed an innovative editor for the creation of emails and landing pages; – On 26 July 2017, the Group positively concluded the subscription to the capital increase implemented through the accelerated bookbuilding procedure which had as its subject 2,610,000 new ordinary shares with no expressed nominal value, corresponding to approximately 23% of the pre-money share capital, for a total value of the increase equal to EUR 6,003,000 (inclusive of share premium). The demand was 40% higher than the quantity offered; – The Board of Directors of 27 September 2017 appointed Alberto Miscia – formerly Head of Deliverability and Compliance of MailUp – Data Protection Officer of MailUp, the company figure established with the new GDPR – General Data Protection Regulation, the piece of legislation which, effective from 25 May 2018, will define unique rules for data processing carried out in the European Union; – On 13 December 2017, at the Deloitte headquarters in Milan, a press conference was held to present the ranking of the Technology Fast 500 EMEA 2017, which established the entry of MailUp Group in this authoritative review of the fastest growing technology companies in the EMEA region. Significant events after 31 December 2017 – On 1 January 2018, Cinzia Tavernini was appointed as new CEO of Globase International ApS, a Danish company controlled by the MailUp Group. Globase, a technology company active in the Nordics, was acquired in 2015 in a "fire sale" while it was in the middle of a restructuring process. The Group is pushing strongly for the integration between the Globase and MailUp business units, launching the new version of the "Globase V3" product, based on MailUp cutting edge technology, already used by thousands of customers around the world. The goal is to transform Globase into a strategic resource for the Group in the Nordics, a market known to be with high added value in the enterprise sector. Resignation of the Executive Director Giandomenico Sica The Board of Directors informs that it has received a notice today from the Executive Director Giandomenico Sica with which he resigned from his position as member of the Board of Directors with immediate effect. Giandomenico Sica, explains the reasons for his resignation: "When I started working with MailUp, the company had consolidated financial statements with a production value of EUR 8 million, an EBITDA of EUR 0.8 million and it closed the financial year at break-even. At the end of this three-year cycle (2015-2017), today we approve consolidated financial statements that express a notable growth of the fundamentals, with a production value of EUR 27 million, an EBITDA of EUR 2.9 million and a company with strong profits. During these years MailUp, which in 2015 was already one of the main companies in Italy in the field of E-mail marketing, has become an international group (MailUp Group), known to be one of the leading players in Europe in the field of "data driven marketing technologies". After successfully completing a new EUR 6 million collection of funds in July 2017, having set up a new investment course – examining about 1,000 companies and building a deal flow populated by over 100 potential target companies for new extraordinary transactions – and having facilitated the construction of a group that is now ready for the jump to the regulated market (Screen-based Stock Exchange, SST), I believe that my supporting role has reached its end. I think the time has come to give space to a new course that is able to meet the challenges that MailUp Group will face in this renewed role of technology multinational. I thank my colleagues on the Board of Directors and the staff with whom I have worked in these years and wish all the best of success!". Nazzareno Gorni, CEO of MailUp, comments: "I thank Nico for the fruitful collaboration of these years. We wish him the best for his present and future projects." It is recalled that Sica in his capacity as entrepreneur in the field of venture capital is director of several technological companies including DHH SpA (www.dhh.international), also listed on the Stock Exchange on the multilateral trading system "AIM Italia/Alternative Capital Market." Allocation of the profit of MailUp S.p.A. With reference to the statutory financial statements of MailUp S.p.A., the Board of Directors proposes to the Shareholders' Meeting to allocate the operating result equal to EUR 1,059,104 to the extraordinary reserve. Calling of the Ordinary Shareholders' Meeting The Board of Directors resolved to call the Shareholders' Meeting on 26 April 2018 to approve the financial statements at 31 December 2017 and the allocation of the operating result. The notice of call will be published pursuant to law. Download the press release with all financial results