Tips for a successful hybrid work model
It will be easy, they said. Just mix what you used to do in the office and the new habits you learned during the pandemic remote revolution, they said. 
The truth is that, when, as Growens, we set out to adjust our emergency remote work model into a structurally hybrid work model, such common sense didn't really apply. 
As it turned out, hybrid work is much more than the sum of in-office and remote work – it's something else entirely, requiring mental space for a constantly shifting scenario where people don't necessarily share the same habits, rituals, working hours, or routines. 
So, one year after making the shift to hybrid & flexible work as a backbone of our culture through the Growens WoW program, we are ready to share what we've learned along the way. 
To make it easier for everyone, we have condensed these learnings into a nimble, yet comprehensive Hybrid Work Handbook ready for download.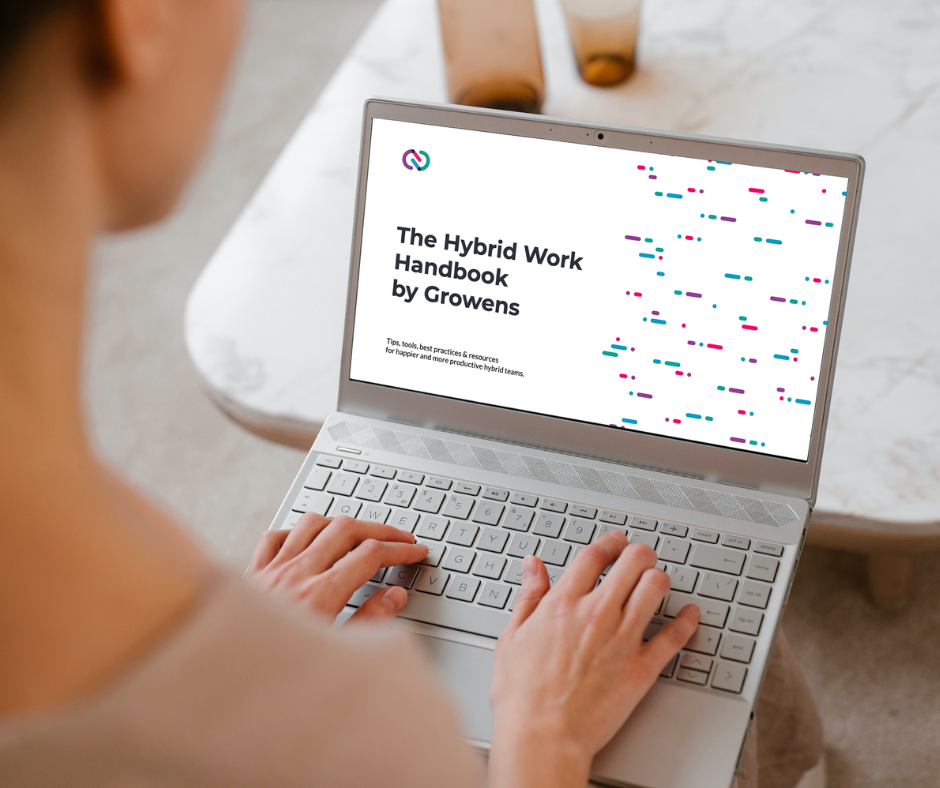 What's hybrid work, anyway?
Traditionally, there has been a clear distinction between in-office working and remote working (be it from home or other locations). We all experienced that clean cut when we shifted overnight from a daily office routine to working from home full time, when the Covid-19 pandemic struck in 2020. 
In the post-pandemic wave, many companies have started to implement various mixes of the two. We often hear of agile, smart, hybrid, flexible, blended, and remote work – but what is the right way to name the model we chose at Growens?
We call the WoW model

'hybrid'

, because of the different options we offer in terms of working location: people can choose on a daily basis where to work from (the office, their home, or anywhere else).

We also call it

'flexible'

, because an international team such as ours cannot rely on rigid work schedules. Flexibility has more to do with how we work, rather than where. It speaks of our goal-driven culture, which focuses on results rather than a specific amount of hours spent tied at the desk. 
What are the advantages of hybrid work?
Hybrid & flexible work really is great. It opens up a world of possibilities for every person, allowing an amazing work/life balance that only a few years ago seemed unattainable:
These are just a few of the experiences our employees have had recently. We'll keep giving them a voice, because we deeply believe that a better way of working is possible – subscribe to our Instagram or YouTube channels to be the first to watch them!
The business sense of going hybrid
Business results and productivity also benefit from the new model, which has the potential to combine the advantages of both remote and on-site working, while mitigating the potential negatives associated with each:
Optimal use of office space and resources

: we can afford smaller, smarter, better equipped offices because

people rotate

. Our employees typically choose the office when a fully equipped meeting room, or a podcast recording studio, or a brainstorming space are needed. Offices are never fully crowded, offering ample space for performing a variety of tasks in an optimal way.

Greater levels of productivity

: choosing to work from home when we need to concentrate, to go to the office when we have important meetings or creative activities to do with others, enables us to do all this in a better way. Also, flexibility means that we can take a longer break on those days when we feel a bit slow. We'll just pick up again when we feel active and focused again. 

Better collaboration and communication

go hand in hand with the above. Each person can choose what works best for them from an array of channels, both synchronous and asynchronous, including in-person meetings whenever it makes sense to do so.

Bottom line: happier people stick around longer

. By empowering people to shape their own way of working, we improve tons of corporate KPIs, including how attractive we are to the best talents and how long we are able to retain them. 
Ten tips for a  successful hybrid work model
Start from your company values
A hybrid work model only works if the company is hardwired to make it work. Otherwise, it's not mandatory to go that way – as our People & Culture Director Enrica Lipari pointed out. 
Make sure that the corporate values that underpin the company are soundly aligned with the pivot to hybrid, and that you have strong endorsement across the management board. A hybrid work model won't work if people managers' habits are rooted in micromanagement, or if optics (e.g. being consistently seen at the office) are more important than getting results done.
Over-communicate
When working in a hybrid way, communication is of crucial importance, because people may not share the context of each person's situation.
Not being necessarily in the same room, we may have a hard time picking up on moods, non-verbal gestures, small talk, and so on. So prepare to prevent misunderstandings and reworks by giving nothing for granted and over-communicating.
Prize transparency
Each person is used to their own way, and yet, for a productive collaboration in a context where people work in a thousand different ways, some ground rules must be applied.
Transparency is key. Giving colleagues the context they need about our location, working hours, and current status, helps them gauge the way they seek interactions with us and to optimize them. In practical terms, this means setting our work location & hours on Google Calendar, clearly marking our days off, updating our Slack status to match our availability, and more.
Respect disconnection
The fact that people may work from a number of timezones or may find it more efficient to work in the evenings doesn't mean that boundaries are off. When lines between private and work life blur, it's important to acknowledge and enforce the right to disconnection at all levels.
Enforce a meeting etiquette
Create the right conditions for both in-presence and remote colleagues to attend meetings comfortably and productively, without anyone feeling left out. 
Book a meeting room if you know some of your colleagues are in the office, always add a "join link" for those who connect remotely, allow for a few minutes' tolerance if people have to switch rooms, and always act as if in presence: show your face, pay attention, and interact. 
Create a proper home office
It doesn't matter if you reside in a mansion or in a studio apartment. To be focused and productive from home, the right setting is essential. Invest in a quality chair with optimal back/neck support, in good lighting and powerful internet connection. 
To look more professional, you may want to use a branded background for your online meetings and to dress properly. Or not. Coding in PJ's is the best. 
Rethink the office
A hybrid office may look a little different from your typical, pre-pandemic office. Rows of assigned desks don't exist any longer. Instead, the office works as a social anchor, with areas for collaboration and team bonding, along with quiet zones for employees to get long stretches of focus work.
Office time means social time, too. Designing playrooms and communal areas equipped with table tennis, coffee stations, a bookcrossing shelf and some edible freebies goes a long way in ensuring that people actually like going to the office.
Endorse working from anywhere
A hybrid work policy will hardly go anywhere if managers pin people to their chairs and frown upon not seeing them physically at the office for longer than five days.
Freeing people to work from anywhere can unlock the best in them. Support people when they ask to work from their family house in a different part of the country, or from a summer house at the coast, or from a co-living shack in Bali. It's up to them, really – as long as they can promise that their work, their safety and the safety of corporate information will be guaranteed. 
Invest in time together
When teams are partly remote, being extra intentional about the moments we spend together is critical to build team spirit, alignment and cohesion.
Bringing people together is a distributed ownership: often companies organize large events (such as summer parties or town halls), while leaving it up to their people managers or internal communities to organize their own events or activities. In-person team retreats, hybrid corporate events and virtual get-togethers should be on the bucket list. 
Be extra caring
If you are a People Manager, you will likely have to adjust your leadership model and work processes to support a hybrid team. 
Everything grows a bit more complicated when dealt with in a hybrid context. Your people will need you more than ever. It's your job to make sure that a variety of ways of working doesn't get in the way of achieving the team's goals.
Wrap up
A hybrid working model is sure to unlock a wealth of possibilities both for individuals to live a fuller life and for companies to thrive in the new normal. At the same time, approaching a transition to hybrid work lightly and underestimating the impact that a blended environment can have on people, productivity, and efficiency can be a serious pitfall. 
At Growens, we have embraced hybrid work as our present and future. If you want to join the team, make sure to discover what open position is a good fit for you.